Quartz Crystals in all-glass enclosure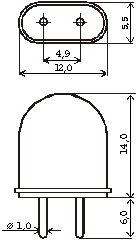 All-glass enclosure HC –26/U (KA) Scale 2:1

| | |
| --- | --- |
| PARAMETERS | VALUES |
| Frequency range, MHz | 5.0 ~ 300.0 |
| Calibration tolerance at 25° C, Df/fn, ppm | ± 1* ~ ± 15 |
| Temperature stability, D f/fn, ppm | ± 2** ~ ± 25 |
| Operating temperature range, ° C | -60 to +85 °C ±5°C from back off point |
| Circuit condition: series resonance or load capacitance, CL, pF | On request up to 30 |
| Equivalent series resistance, R1 | see table |
| Shunt capacitance, Ñ0, pF | 2 ~ 7 |
| Aging, first year, D f/fn, ppm (max) | ± 1*** ± 5 |
| Drive level, mW, (max) | 0,05 ... 0,5 |
* at back off point
** ± 5 C from back off point
*** fundamental mode up to 10MHz:

Hi Q crystal units :up to 350 000


Aging down to 1-2 ppm


Miniature package


Wide frequency range


Destination- high-end crystal oscillators NOTE: Some combinations of stability and temperature range may not be available. Please check with us before ordering. See page for an explanation of specification codes.
| | | |
| --- | --- | --- |
| FREQ MHz | COMMENTS AT-cut | R (max) Ohm |
| 5.0 - 33.0 | Fundamental | 15 |
| 25.0 - 100.0 | 3th OT | 30 |
| 100.0 - 150.0 | 5th OT | 50 |
| 150.0 ~ 230.0 | 7th OT | 120 |
| 230.0 ~ 300.0 | 9th OTà | 180 |